(Specifically, what does "Faith in God" mean?)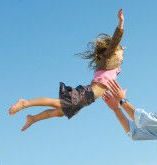 The Bible defines faith as "... confidence in what we hope for and assurance about what we do not see."  Heb. 11:1 (NIV)  Faith in God is simply trust, or confidence, in Him even though we cannot physically see Him.  It is much more than just believing that He is real.  The faith God wants from us is for us to believe in His entire way of life, the holy, righteous way that God Himself lives.

James 2:14 (NLT) says, "What good is it, dear brothers and sisters, if you say you have faith but don't show it by your actions? ...".  And verse 17 goes on to say, "... Faith by itself isn't enough.  Unless it produces good deeds, it is dead and useless."

"Faith that works", faith that is alive, can be illustrated by a father and his two children out on a dock.  The father jumps in the water and then asks his blind-folded kids if they trust him.  Both say that they do, but when he asks them to jump into his arms only one actually jumps while the other refuses to jump, ever.  Which one actually has faith and which one does not?  It's not hard to see that if we have faith, if we really trust Him, we will do exactly as our Father asks, even when we cannot see Him. 

The Bible says that "... without faith it is impossible to please God, because anyone who comes to him must believe that he exists and that he rewards those who earnestly seek him."  Heb. 11:6 (NIV)  From this verse we can see that our faith is extremely important to God, so we NEED to know exactly what faith is, and we need to "earnestly seek Him".
 
As stated before, the Bible defines faith as more than just a belief that God is real.  Real faith is CONFIDENCE and ASSURANCE in God. Assurance is freedom from distrust, and so it will be based on what you have seen.  In other words, faith is not a blind trust in something that you really do not know anything about. 

Even Abraham's faith was based on reason, not on "blind faith".  When told by God to kill his only son Isaac, Abraham had assurance because he had found God to be totally trustworthy.  Abraham followed God's instructions.  Hebrews 11: 18, 19 (Amplified Bible) tells us that Abraham "reasoned" that because God had said that from Isaac He would raise up a great nation, He would also raise Isaac from the dead to keep His promise.  That is not "blind faith".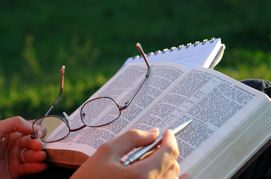 How do we get faith?  The Bible says, "... faith comes from hearing the message, ... the message is heard through the word about Christ."  Romans 10:17 (Good News Translation)
When we hear from the Bible what God has done for humans at different times throughout history we actually gain confidence and trust in His leading.  We gain faith in God, and the more faith we have the more we see that He only wants what is best for those who love Him.
Build YOUR faith by studying the Bible for yourself, and by reading all the Bible-based stories about Christ from The Desire of Ages.  Just keep in mind that even though you feel you are building your faith all by yourself all faith comes from God.
 
Eph. 2:8 says, "For by grace are ye saved through faith; and that not of yourselves: it is the gift of God".
(The NLT version puts it this way, " God saved you by his grace when you believed. And you can't take credit for this; it is a gift from God.")
---
You do not commit intellectual suicide when you trust in God. 
True faith in God is not blind!
---
Believe on Jesus!
Acts
16:30, 31 And brought them out, and said, Sirs, what must I do to be saved?  And they said, Believe on the Lord Jesus Christ, and thou shalt be saved, and thy house.
Romans
10:9, 10  That if thou shalt confess with thy mouth the Lord Jesus, and shalt believe in thine heart that God hath raised him from the dead, thou shalt be saved.  For with the heart man believeth unto righteousness; and with the mouth confession is made unto salvation.
John  
3:16-18  For God so loved the world, that he gave his only begotten Son, that whosoever believeth in him should not perish, but have everlasting life.  For God sent not his Son into the world to condemn the world; but that the world through him might be saved.  He that believeth on him is not condemned: but he that believeth not is condemned already, because he hath not believed in the name of the only begotten Son of God
1 John
5:12, 13   He that hath the Son hath life; [and] he that hath not the Son of God hath not life.  These things have I written unto you that believe on the name of the Son of God; that ye may know that ye have eternal life, and that ye may believe on the name of the Son of God.