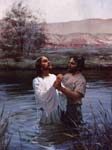 Baptism is first mentioned in reference to what John the Baptist was urging the people to do:
 
"As it is written in the prophets, Behold, I send my messenger before thy face, which shall prepare thy way before thee.  The voice of one crying in the wilderness, Prepare ye the way of the Lord, make his paths straight.  John did baptize in the wilderness, and preach the baptism of repentance for the remission of sins.  And there went out unto him all the land of Judaea, and they of Jerusalem, and were all baptized of him in the river of Jordan, confessing their sins." - Mark 1:1-5 

The Bible says that baptism is a public showing that we belong to Jesus Christ. It is being "buried with him", it is God's way for us to demonstrate publicly that we will go all the way with Jesus, that we have confessed our sins and are placing all of our trust in Him.  By baptism we confess our faith in the death and resurrection of Jesus Christ, and testify that we are dying to sin and that it is our purpose to walk like Jesus walked.
 
Ok, so what is "Bible Baptism"?  What actually takes place?  As noted already, baptism is a public showing that we are completely giving ourselves to obeying Jesus (John 14:15; 15:10, 1 John 5:2, 3, Joshua 22:5, Exodus 20:6),  so baptism usually takes place with a number of people watching and the one who is going to be baptized enters a lake, river, pond or pool (anything with a large enough amount of water in it) with a pastor.  The pastor usually says a few words about the choices that this person has made in regards to accepting Jesus and then lifts his hand toward heaven and says something like, "I now baptize you in the name of the Father, the Son and the Holy Ghost."  The pastor then usually covers the persons mouth and nose with one hand (to keep the water out) while the other arm is placed behind the person's shoulders the person is laid back into the water as if they have just died and are buried and then they are stood up again.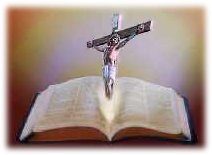 This "death, burial and resurrection" represents the death, burial and resurrection of Jesus, but it also represents our death to a sin controlled life, our burial of the past sinful nature and our resurrection to a new life with Christ as our leader.  By being baptized we are not saying that we will not sin again, but we are showing the world that we have chosen Another to lead us.





 
What else does the Bible say about Baptism?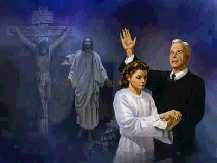 Matthew
28:18 And Jesus came and spake unto them, saying, All power is given unto me in heaven and in earth.
28:19 Go ye therefore, and teach all nations, baptizing them in the name of the Father, and of the Son, and of the Holy Ghost:
28:20 Teaching them to observe all things whatsoever I have commanded you: and, lo, I am with you alway, [even] unto the end of the world. Amen.
 
Mark
1:4 John did baptize in the wilderness, and preach the baptism of repentance for the remission of sins.
 
Luke
3:3 And he came into all the country about Jordan, preaching the baptism of repentance for the remission of sins;
 
John
3:23 And John also was baptizing in Aenon near to Salim, because there was much water there: and they came, and were baptized.
 
Acts
2:41 Then they that gladly received his word were baptized...
 
13:24 When John had first preached before his coming the baptism of repentance to all the people of Israel.

19:4 Then said Paul, John verily baptized with the baptism of repentance, saying unto the people, that they should believe on him which should come after him, that is, on Christ Jesus.
19:5 When they heard [this], they were baptized in the name of the Lord Jesus.
 
Romans
 6:1 What shall we say then? Shall we continue in sin, that grace may abound?
6:2 God forbid. How shall we, that are dead to sin, live any longer therein?
6:3 Know ye not, that so many of us as were baptized into Jesus Christ were baptized into his death?
6:4 Therefore we are buried with him by baptism into death: that like as Christ was raised up from the dead by the glory of the Father, even so we also should walk in newness of life.
6:5 For if we have been planted together in the likeness of his death, we shall be also [in the likeness] of [his] resurrection:
6:6 Knowing this, that our old man is crucified with [him], that the body of sin might be destroyed, that henceforth we should not serve sin.
6:7 For he that is dead is freed from sin.
6:8 Now if we be dead with Christ, we believe that we shall also live with him:
6:9 Knowing that Christ being raised from the dead dieth no more; death hath no more dominion over him.
6:10 For in that he died, he died unto sin once: but in that he liveth, he liveth unto God.
6:11 Likewise reckon ye also yourselves to be dead indeed unto sin, but alive unto God through Jesus Christ our Lord.
6:12 Let not sin therefore reign in your mortal body, that ye should obey it in the lusts thereof.
6:13 Neither yield ye your members [as] instruments of unrighteousness unto sin: but yield yourselves unto God, as those that are alive from the dead, and your members [as] instruments of righteousness unto God.
6:14 For sin shall not have dominion over you: for ye are not under the law, but under grace.
 
---
It is important to note that Romans 6:5 tells us that we are "planted...in the likeness of his death".  Verse 4 tells us that baptism is to show that we are dying to sin and being "buried" and then being "resurrected" "like as Christ was raised up from the dead".  These verses, and others, indicate that baptism should be a going beneath the waters as if we are buried there and a coming up out of the water as if we have been resurrected from the dead, because we are no longer dead in sin and "so we also should walk in newness of life".
---
Ephesians
4:4 [There is] one body, and one Spirit, even as ye are called in one hope of your calling;
4:5 One Lord, one faith, one baptism,
 
Colossians
2:12 Buried with him in baptism, wherein also ye are risen with [him] through the faith of the operation of God, who hath raised him from the dead.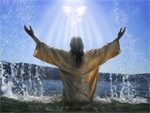 Dig Deeper: