"They will never again be hungry or thirsty; they will never be scorched by the heat of the sun. For the Lamb on the throne will be their Shepherd. He will lead them to springs of life-giving water. And God will wipe every tear from their eyes."  Revelation 7:16-17 NLT
Interesting how you can read something in the Bible over and over and still come away with something new each time.
Springs of Living Water?  The King James Version calls them fountains, but I have never thought of springs or fountains being in Heaven. I have always just pictured rivers, streams, lakes, and waterfalls. 
Can you imagine walking with Jesus along a river to a bubbling spring or even a fountain coming out of the ground?  There's something about a natural spring that is just so refreshing to see, not to mention the taste of that "clear as crystal" water.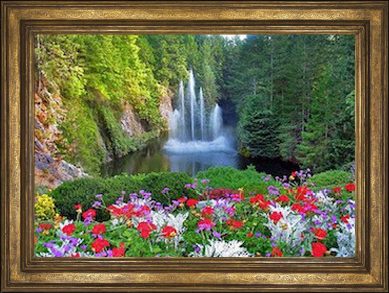 I was looking on the Internet trying to find a photograph that would help me get a mental picture of what it might be like to be near a natural fountain in Heaven.  I saw several amazing pictures there, but the one that especially caught my eye was of a beautiful small lake or pond with what must be a man-made fountain. Yet if man can do this so beautifully, then God can do it even better.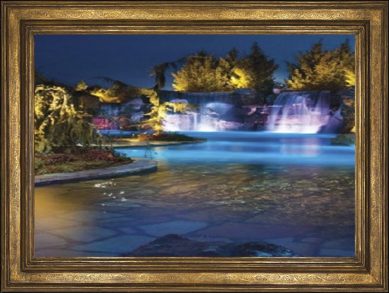 Even after seeing all of these images it's still hard for me to imagine living in such an amazing place.  Flowers of all colors everywhere I look, magnificent trees on rolling hills, grass-covered fields with crystal clear ponds and streams, waterfalls and mountains of lofty heights, these would take my breath away.  I don't think anyone would ever get use to it, even after a million years.
Humans pay thousands of dollars to be able to stay in a place like this for just a week.  What would it be like to live forever in a place that has even more to offer than all of these combined?  Why does God offer this and more to us? If He just wants us to live forever then why all of this other stuff?  Why doesn't He just plan on giving us a cloud to sit on?  Why is He making a home for us that has awesome food, beauty all around, comfort beyond compare, zero sickness, and absolutely no pain or grief?  Why is He going to allow us to plant our own food and build our own house? (See Isaiah 65 :21)  Are we going to have a country home and a mansion in the Holy City?
Dan
"The thief's purpose [the purpose of Gods enemy] is to steal and kill and destroy. My purpose [God's purpose] is to give [you] them a rich and satisfying life."  John 10:10 NLT