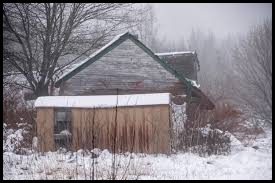 Years ago I heard a simple story of a man looking out of his window during a snowstorm. He was watching a flock of little birds that were trying to survive the storm outside. There was a barn not far away that could help them, and he was wishing that he could go out there and show them where the barn was so that they could be safe and warm. Of course he also knew that if he went outside they would become afraid, so he wished that he could become one of them and show them how to live. It was then that he realized that God had done just that, for us. 
When Jesus came to earth it was for the same purpose. He became human so that He could show us how to be safe, how to live, how to love, and how to be happy, without making us run from Him, or scaring us to death. 
An illustration of this can even be seen in the tent that Moses was told to build for God. God said, "Let them make Me a sanctuary; that I may dwell among them." Ex. 25:8  God pitched His tent right in the middle of the tents of His people, and He was there to guide, protect, and teach them how to live, how to love, and how to be happy. (By the way, we can learn a LOT from the sanctuary and its services.) 
Jesus came in the form of man and lived right here with us to help us see the right way to live, and to save us (to protect us from the eternal effect of sin-death). Christ set up His "tabernacle" (His body) in the midst of our human encampment. He pitched His "tent" by the side of the tents of men (He lived right with us), so that He might dwell among us, making us familiar with His divine character and life.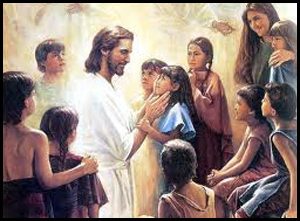 "The Word became flesh, and tabernacled among us (and we beheld His glory, glory as of the Only Begotten from the Father), full of grace and truth." John 1:14, R. V., margin. 
Jesus came to earth to help us understand the love that God had for us. He became flesh and blood so that we could live. He became flesh and blood so that we would understand what it was that makes Him such an awesome God, and to show us the Way to safety. 
Since Jesus came to dwell with us, we know that God is acquainted with our trials. He is the friend of sinners because He knows what we are going through, in detail. He hurts when we hurt. In every doctrine of grace, every promise of joy, every deed of love, every divine attraction presented in the Savior's life on earth, we see "God with us." And in reality this is the plan ( "the Plan of Salvation" ) that God had set in place long before there was even a sinner. 
"But with the precious blood of Christ, as of a lamb without blemish and without spot: Who verily was foreordained before the foundation of the world, but was manifest in these last times for you, Who by him do believe in God, that raised him up from the dead, and gave him glory; that your faith and hope might be in God." 1 Peter 1:19-21 (KJV) 
And all that dwell upon the earth shall worship him, whose names are not written in the book of life of the Lamb slain from the foundation of the world". Revelation 13:8 (KJV)
God had originally planned for man to be sinless and happy (I'm going to call this, "Plan A"), but man sinned and became subject to pain, suffering and death. God's original plan was set aside for the time, and the plan to save the universe from the results of sin was set into motion (I'm calling this, "Plan B"). 
Jesus came to earth as a man and died in our place. His death redeemed us and will save us from sin, but only if we accept His death instead of dying for our own sins. In other words, Jesus wants to give us life that never ends and joy beyond our wildest dreams. 
Jesus wants to get back to "Plan A", and He has done what needed to be done, but the only way "Plan A" can happen for you and me is if we accept the death of God's only Son, Jesus. If we choose to pay our own debt then we will have to die for ourselves. But why die?

  Choose Jesus!
 
Are you ready to choose Jesus?  Read more here.